Surplus Asset Management—Good for the Environment and the Community
Our dynamic company is constantly changing and evolving. This is also true of the equipment needs of our staff. To save financial resources and reduce environmental impact, Amgen maintains a robust Surplus Asset Management (SAM) center where staff can send equipment they no longer need or obtain equipment for reuse. SAM also auctions equipment or donates it to educational programs like the Amgen Biotech Experience, an innovative science education program that empowers teachers to bring biotechnology into their classrooms, as well as for other philanthropic purposes.
In 2018, we diverted approximately 147 metric tons of materials from the landfill through SAM. These materials took on a new life, either within Amgen's network or by external purchasers or recipients through SAM.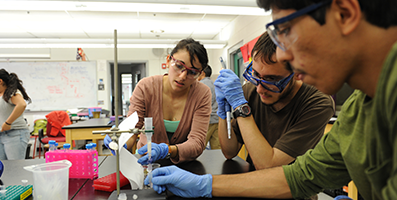 The Department of Chemistry at the University of San Francisco has been but one of many SAM recipients, receiving donated flasks, tissue culture dishes and other items for use in their chemistry, biology, biotechnology and environmental science teaching labs.
"In this time of uncertain funding for the sciences, it is of great comfort for our small program to know that we have the reliable support of a prominent Bay Area company," said Assistant Professor Janet Yang. "Your generous donations allow us to continue in our mission of educating our students with the knowledge and skills needed to succeed in their future scientific careers."