In the last decade, significant strides have been made in cancer prevention, diagnosis and treatment, yet many people around the world with cancer continue to face barriers along their journey that impact their access to care. Amgen Oncology is proud to sponsor UICC's World Cancer Day on February 4, by continuing to support their multi-year campaign to Close the Care Gap. In a follow up from 2022's focus on realizing the problem, this year's focus will be on Uniting Our Voices and Taking Action – together.
Amgen Oncology remains committed to advancing all angles of care for patients and those who care for them by delivering a spectrum of cancer treatment options, from transformative medicines to outcome-enabling solutions such as supportive care and biosimilars. Around the world, Amgen colleagues, patients and partners are showing up for the cancer community and making a significant impact.
Japan: Creating new ways of delivering information to patients
In recent years, lung cancer treatment has drastically progressed with the advancement of cancer genomics, leading to the emergence of precision medicine options that can be tailored to an individual's specific disease pathology. However, health literacy around lung cancer remains low among patients.
To address this challenge, Amgen Japan created a series of cartoon videos to provide a wide range of lung cancer-related information in a way that is easier for patients, their families and the general public to understand.
Canada: Promoting supportive care for patients
Amgen Canada's Kerry Brennan, senior biopharmaceutical representative of Oncology, Hematology and Urology, has come a long way since her breast cancer diagnosis in December 2020. She is now working to "flood the world with more positivity" by sharing her own experience and closing the care gap by supporting others dealing with similar situations.
Kerry said, "We can all strive to improve things such as health literacy, access to novel therapies and initiatives to help patients manage anxiety and quality of life, more cancer care navigators who have lived the experience and most of all, to bring that 'you can' attitude."
Germany: Highlighting the people behind the innovation
Amgen Germany developed a campaign featuring portrait photos of the employees working in the Oncology unit. The campaign shows what is an important part of improving patient treatment and care – the individual pharma employees that strive every day to support healthcare providers in their work and develop innovative solutions to their needs.
"Amgen is strongly committed to bringing innovative medicines and improved care to oncology. I am very proud to be part of our mission to serve patient needs, together with my colleagues," said Tobias Frankenberg, senior marketing manager of Hematology and Oncology.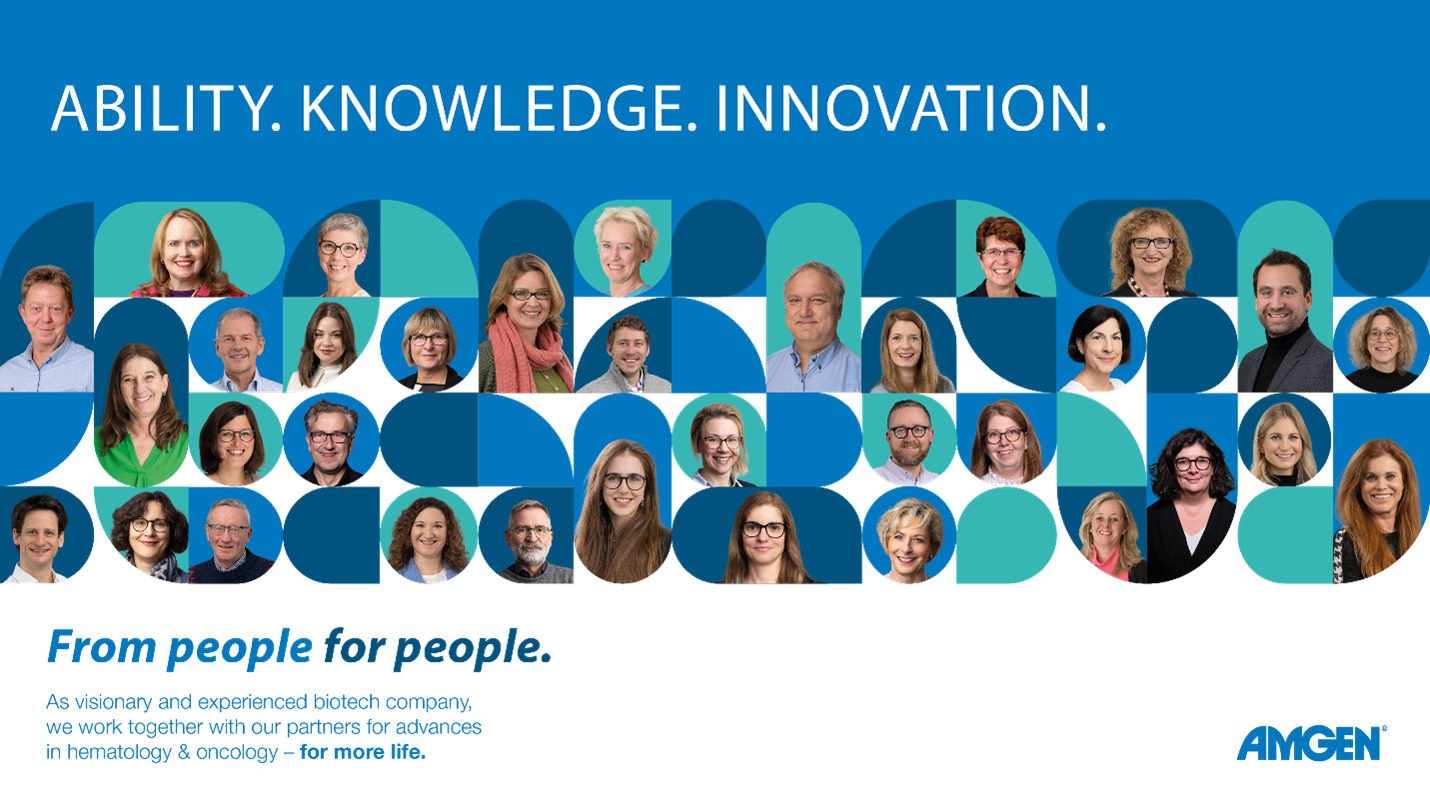 Greece: Improving access to biomarker testing and supporting programs for patients living with lung cancer  
Comprehensive biomarker testing can play a critical role in the personalized treatment of patients with non-small cell lung cancer. Members of Amgen Greece's medical, commercial and access team noticed a financial barrier in comprehensive biomarker testing, resulting in patients only being tested for four out of the 14 biomarkers indicated for targeted lung cancer treatments here in Greece. In 2021, Amgen Greece partnered with the National Society of Medical Oncology to promote comprehensive biomarker testing and has since supported more than 400 patients who have received comprehensive biomarker testing.
To further support lung cancer patients, they joined forces with the first lung cancer patient association in Greece, FairlifeLCC, to advocate for broad biomarker testing for all patients and launched an awareness campaign on biomarker testing. Amgen Greece and FairlifeLCC have since launched a collaborative program that offers support to lung cancer patients and families, including diagnosis, support groups and grievance counseling.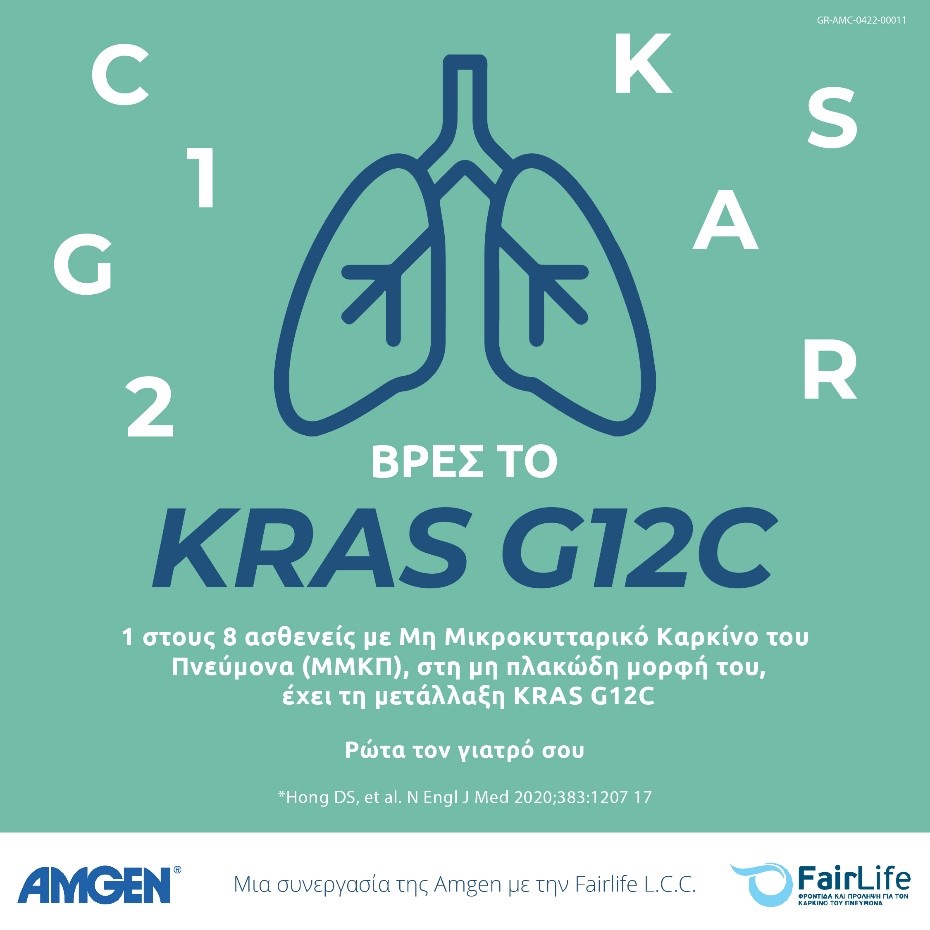 Egypt: Digitalizing healthcare provider resources to better patient care
Amgen Help in Egypt digitalized the material found in leaflets, particularly the information needed to manage or maintain patients on treatment, to help healthcare providers.
Watch the below video to meet Ahmed Ibrahim, product manager of Hematology and Amgen Help specialist.
Gulf Region: Partnering with organizations to better support B-ALL patients
In the Gulf, patients with MRD-positive B-ALL have low survival rates as MRD testing is not widely established. To address this unmet need and better serve patients, Amgen Gulf Region partnered with diverse healthcare players to help close the care gap for patients. The Gulf Region has co-operated with distributers to ensure on time treatment delivery, collaborated with labs to ensure local MRD testing availability, and partnered with societies (Emirates Hematology Society, Oman Society of Hematology and Kuwait Hematology Association) to provide continuous education of healthcare providers through expert forums and MDT case discussions.
Join us this World Cancer Day by sharing how you are working to close the care gap on social media. Please use the hashtags #WCD2023 and #CloseTheCareGap in your social media posts.