Biomanufacturing Evolves With Environmental Benefits
Technological advances are often tied to miniaturization—think of the computing power now accomplished with a chip the size of a fingernail. Biomanufacturing—the production of biologic medicines using living cells—is also evolving toward smaller scale, and Amgen is leading the way.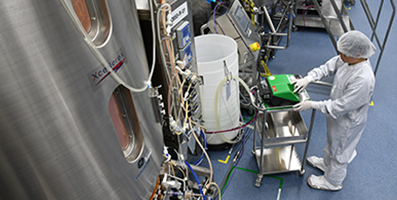 Traditionally, commercial manufacture of biologic medicines has required facilities covering more floor space than a dozen football fields and large steel bioreactors connected to miles of pipes. With advances in technology and scientific knowledge, Amgen has created a streamlined, flexible and more economical plant for biomanufacturing that is also considerably greener. Compared with a conventional plant, this innovative approach reduces facility footprint by 80 percent, conserves water and energy and greatly reduces carbon emissions.
We pioneered this approach with our next-generation biomanufacturing plant in Singapore, which major international regulatory agencies, including the U.S. Food and Drug Administration, licensed in 2017 for the commercial production of biologic drug substances. Based on the success of this plant, we have begun construction in Rhode Island of another new next-generation biomanufacturing plant using these proven next-generation biomanufacturing capabilities and approach for more efficient, economical and green biomanufacturing.
As a world leader in biomanufacturing, our quest for innovation continues. The more flexible and agile we are in manufacturing drug substances, the better we can serve our patients. Beyond next-generation biomanufacturing, our staff continue to seek ways to make drug substances in smaller facility footprints with more environmentally friendly and efficient processes.
"We've found that innovations we develop to advance our science provide multiple benefits to reduce the environmental footprint of our operations overall, as well as improving manufacturing process and facility efficiency—it's a win-win-win—for patients, our business and the environment," said David Harrison, executive director, Environment, Health, Safety and Sustainability.