The nights are still the worst for Francesca Johnson.
Her phone sits there on the bedside table. Silent. It used to buzz every night while she watched television – sometimes a show, sometimes the news. She knew who it was immediately because nobody else ever called that late.
Johnson's mother would remind her to make sure she locked the door. This was something she had done ever since Johnson moved out on her own to go to college.
There are other moments at night when it is Johnson who reaches for the phone to call her mom upon seeing the latest breaking news on CNN – a chance for her to vent over the latest can-you-believe-this-is-happening moments which seem to have marked 2020. But then reality hits. The call goes unmade.
"It's like my head and my body haven't accepted my mother is gone," Johnson said. "She was so much a part of my daily life."
Gwynne McCathorine died this summer, just weeks after her 75th birthday in March. She is one of the more than 235,000 Americans and 1.2 million globally who have succumbed to COVID-19 so far. She was mom to Johnson and her sister, Valaria. She was grandmother to Johnson's two children, 11-year-old Ivy and 8-year-old Evan.
The pandemic has touched every country, with more than 50 million cases to date. It has changed lives, taken lives and disrupted lives. It has hamstrung commerce, divided nations and confounded governments. In recent weeks, fears of complacency have settled in as more places open up and people debate the need for masks, physical distancing and adequate testing.
Johnson has watched this all unfold in disbelief. The death of her mother – the loss of parents, children, brothers, sisters, grandparents, spouses, aunts or uncles – to a virus had become the worst kind of object lesson imaginable.
"My mom taught me to have an opinion and to speak out," Johnson said. "She always gave me positive reinforcement about who I was and to make a meaningful contribution to society. So, I speak out when there is need."
There is a need now. Johnson works in Amgen's Neuroscience Sales Division as a senior biopharmaceutical sales representative in Washington DC. And she wants everyone to know: It could happen to anyone. Her mother's death left a hole in her life. The stakes are high and vigilance with the virus – wearing masks, staying six feet apart – must remain high as well so others may not go through what she did.
Value of Education
McCathorine's spirit is everywhere in Johnson's house. There are pictures and portraits, along with honors and awards she received over the years for being the first Black woman to become a warden in the Federal Prison Services as well as establishing the first National Association for the Advancement of Colored People (NAACP) branch within the Federal Prison Service.
"She was a pioneer," Johnson said.
Born in Philadelphia in 1945, McCathorine was the first in her family to graduate from college. In her formative teenage years, during the Civil Rights era, she saw leaders like Malcolm X and Martin Luther King Jr. be assassinated for espousing the right for every African-American to vote and have equal protection under the law. In later years, Johnson would see her mother host civil rights icons such as the Rev. Yolanda King and comedian Dick Gregory at their house.
Her mother graduated from Knoxville College in the late 1960s with a degree in sociology and a determination to make a difference in the world. Johnson said her grandparents pushed education and McCathorine often reminded Johnson that her grandmother often went without things she wanted and sometimes needed in order to save for college.
In college, she would join Alpha Kappa Sorority, Inc, the first historically African-American Greek-lettered sorority. It would become a huge part of her life as she made life-long friendships, developed networks and leaned on her sorority sisters for support – and supported them, too.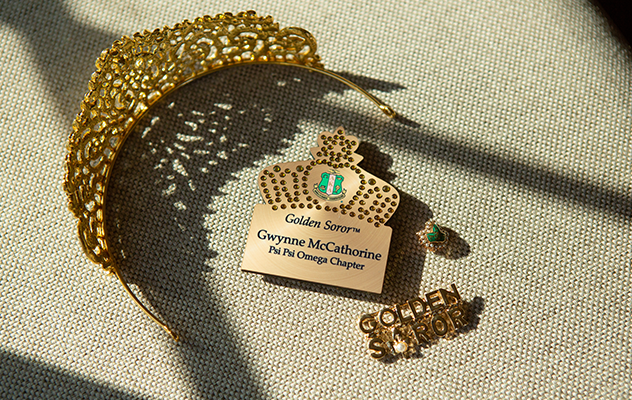 "She was the epitome of power in both her presence and in her speech," sorority sister Anika Harris said at her funeral.
Johnson said her mother initially was drawn to work in the prison and corrections system because she saw a chance to help people – first as a case worker and then as an administrator at a half-way house. She remembered her mother bringing her to the prison to talk to some of the inmates in hopes they might serve as an example of how a life can be derailed.
But she also saw it as a chance to provide inmates with a feeling of accomplishment – that they could help others, no matter their place in life.
Her mother, she said, believed in second chances and had a strong, empathetic streak.
"She would give people the benefit of the doubt," Johnson said. "But if you took advantage of it, she was absolute in her response, thoughts and actions."
Some of Johnson's earliest memories are of her mother taking her to the prison as child to speak with some of the inmates. She didn't quite realize it at the time, but her mother was helping two people at once: her daughter and the inmate.
Johnson said her mother stayed in touch with some of those who were eventually released years after and continued to serve and mentor others.
"It showed me that some people can make mistakes and still have a successful life," Johnson said. "That life is a constant improvement project."
Even as her mother aged, Johnson watched and learned from her. When McCathorine retired from the prison system, she obtained her teaching certificate and taught children with disabilities in Virginia. And as health challenges put her in a wheelchair, her mind remained sharp and she was still imparting lessons – and support – for her daughters.
Debbie Cavallio, a close friend who works with Johnson at Amgen, said the tragedy is that McCathorine should never have died so young.
"It went from zero to 100 so fast," Cavallio said. "The nursing home had gone on lockdown, then people started to test positive. It was a domino effect and such a fast, downward spiral once her mom tested positive."
Saying goodbye
Johnson said she still remembers the last time she hugged her mother. It was in early March, before COVID-19 numbers were in the thousands and the World Health Organization hadn't declared it a pandemic yet.
But then the nursing home began restricting in-person visits and Johnson said they had to celebrate her mother's birthday with a window visit. She brought balloons and wrote "Happy Birthday" on the window and shared pictures.
Tamrah Robinson, a long-time friend, said it was difficult for Johnson and the family. She said they were affectionate toward each other, with lots of hugs. The lack of physical contact took its toll over time.
"She would go a few times a week just to stand at the window and wave to her," Robinson said, "But that extra warmth that comes from physical contact was gone."
Johnson said as her mother deteriorated, she felt unprepared.
She felt isolated from the woman who had beamed proudly when she graduated from college with a degree in biology. Separated from the woman who comforted her after she was frightened by the burning cross on their front lawn at the age of six because the Ku Klux Klan had thought the new warden "was hiring too many Black people." Lost from the role model who doted on her grandchildren and inspired her to raise them as the next generation of proud, strong educated Black children.
When COVID spread through the nursing home and McCathorine tested positive in June, there was shock. The reports of people suffering through COVID were grim – the need to be put on ventilators, the excessive fatigue, the headaches, high fever and nausea.
"Her mom was such a strong person," Robinson said. "Fran gets that from her mom. I know her mom thought she would beat it and I think Fran thought she would beat it, too. But near the end, watching your mother die on an iPad, I saw her have to change gears and be strong for her children. That's what her mother would have done."
Johnson said she had gone to the grocery story to pick up a few items when she got the call from the hospital on June 20.
Her mother was dead.
She got into her car and wept. Robinson said she was distraught when she called to tell her the news. Worried, Robinson told her to wait until she had calmed down enough to drive home. Johnson pulled herself together and went home. She waited a couple of days to break the news to her children. They cried, too.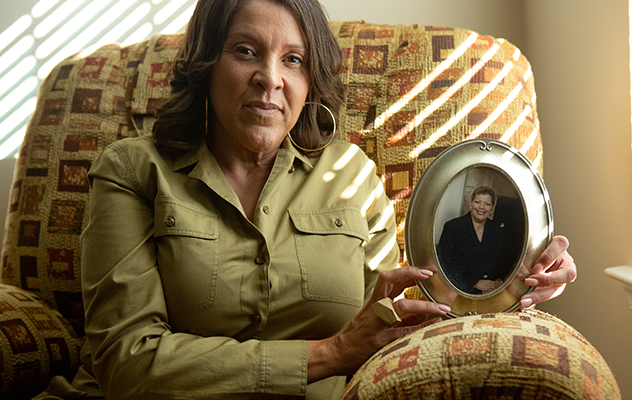 When she finally got to see her mother again in person, it was at the funeral home days later. She gently kissed her forehead and said goodbye.
Do the right thing
The funeral was a blur of grief, memories and a sense of unbelievable finality.
Johnson remembers all of it, but she was mostly focused on staying strong when delivering her remembrance of her mother.
Rev. Luke Torian spoke of McCathorine sitting "in her iconic spot every week" and how she had single-handedly pushed the church to make sure those with disabilities had transportation to the services on Sundays.
"No one could take that spot," Torian said. "That was reserved."
When Johnson spoke, wearing a white dress and holding a steady voice, she used David Letterman's Top 10 list as a template for noting all the things she had learned from her mother. She told the mourners that her mother taught her to show gratitude – remembering how her mother not only required thank you notes be written for received gifts, but the item must be mentioned in the note to reflect deeper appreciation.
She remembered her telling her to be sincere. To do the right thing. To love herself. Treat others with dignity and respect. To give and volunteer and have an opinion – but not to hold it until you understood the subject.
When the service was over, she filed out behind the pallbearers. There was a gravesite service and Johnson said they hope to have a tombstone put up for her before the holiday season approaches and the weather turns.
Johnson navigates life now without her mother. She said sometimes she would talk to her a few times a day on the phone – short check-ins or just to say hello. Her absence has a ubiquitous presence. There is an unfathomable emptiness some days where she just misses her best friend.
And the nights are still the worst, where Johnson locks the door and heads to bed, trusting her mom can see her daughter had been listening all along and that the family is still safe.
As the COVID-19 pandemic continues to evolve, we are committed to doing everything we can to keep our staff and their families safe, as well as to help the communities where we live and work reduce the number of people exposed to the virus. We are also committed to continuing to deliver an uninterrupted supply of our medicines for the patients who need them. If you are a patient, medical professional, employee, or member of the community, please see our COVID-19 Information Center page.