Millions of American children from low-income families who are staying home from school are learning a hard lesson – online education isn't very valuable if you don't have a computer or a high-speed internet connection.
To help bridge this digital divide in Hillsborough County, Florida – home to the Amgen Capability Center in Tampa – we are donating $50,000 to the Hillsborough Education Foundation to address the technology challenges faced by students in need.
"Our most vulnerable students are at the highest risk of falling behind in their studies because a lack of resources prevents them from connecting to their online learning platforms at home," said Hillsborough Education Foundation CEO Kim Jowell. "Amgen's generosity will allow students to fully experience and benefit from learning and to continue on their inspiring path of growth and achievement."
This donation is just one of a growing number of examples of how Amgen and the Amgen Foundation are deploying up to $12.5 million to make a difference in the communities where we live and work during one of the most challenging times many of us can remember.
As in Tampa – where we donated an additional $250,000 to the United Way Suncoast COVID-19 Response & Recovery Fund – donations are now being made across the U.S. in those communities where Amgen has a significant presence. In New Jersey, where we have a new site, we donated $100,000 to the New Jersey Pandemic Relief Fund.
"We have quickly marshalled the resources of so many caring residents, corporations and not-for-profits to provide much-needed 'boots on the ground' services across our state," said New Jersey First Lady Tammy Murphy, who is Chairperson of the NJ Pandemic Relief Fund. "We are incredibly grateful for this generous grant from Amgen that will make a significant impact in addressing the urgent needs of our community, both now and in the weeks and months ahead as we continue fighting this pandemic."
Additional donations have been made in Rhode Island , Kentucky , San Francisco , Cambridge, and Washington, D.C.
The Amgen Foundation has also committed to giving $1 million each to Direct Relief and International Medical Corps, two of our long-time non-profit partners. International Medical Corps recently opened its first temporary medical unit at Martin Luther King, Jr. Community Hospital, a facility serving 1.3 million people in an economically challenged section of Los Angeles that is bracing for a surge in COVID-19 patients.
"Thank you, as always, for Amgen's extraordinary support and partnership," said Rebecca Milner, chief advancement officer at International Medical Corps.
We have also earmarked $2 million to support patient-focused organizations in the U.S. that are mounting their own response efforts. One of these is the Leukemia & Lymphoma Society (LLS), which just announced that, with help from Amgen and other partners, eligible blood cancer patients will begin receiving a $250 stipend to help with non-medical expenses, such as food, housing, utilities, transportation and other needs. Amgen's contribution to LLS will help 1,000 patients in need.
"Cancer doesn't stop because of COVID-19, and cancer patients can't wait for our help," said Louis J. DeGennaro, Ph.D., LLS president and CEO.
Amgen is also receiving requests from around the world for personal protective equipment (PPE), medical supplies, and lab equipment.
"The reality is that we run a tight, just-in-time supply chain at Amgen and have very little excess inventory to donate, especially when it comes to PPE," says Sam Guhan, vice president, Engineering, who is part of a cross-functional workstream tasked with creating a process to assess these types of requests. "Where we can help, we will, of course, and always with a focus on making a difference in our local communities."
Our facility in Cambridge, Massachusetts, for example, recently made a donation of laboratory equipment, including two sample processors, to the Massachusetts Emergency Management Association, which is responsible for getting these supplies to where they are needed the most. The equipment was picked up by the Massachusetts National Guard.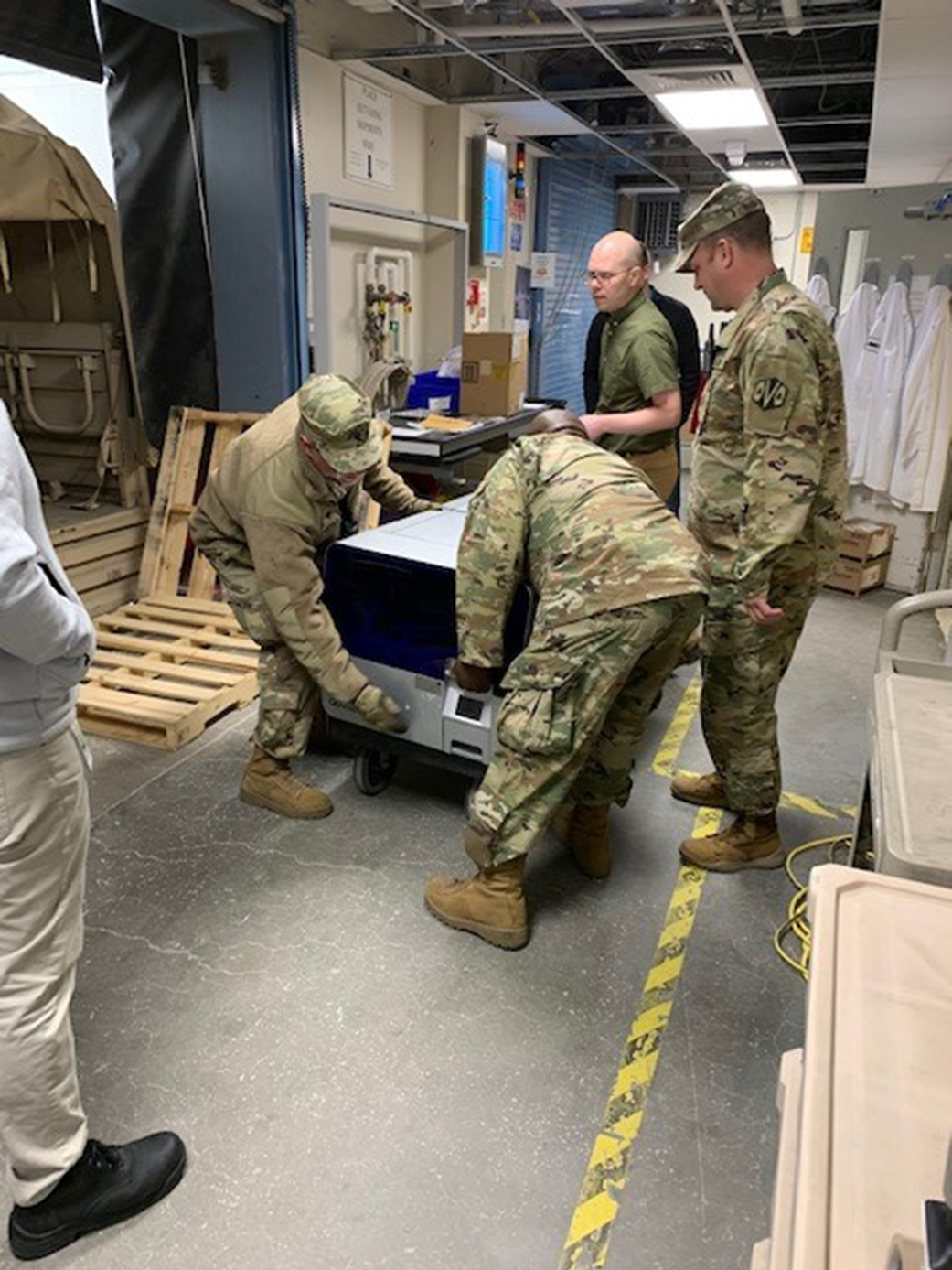 As the COVID-19 pandemic continues to evolve, we are committed to doing everything we can to keep our staff and their families safe, as well as to help the communities where we live and work reduce the number of people exposed to the virus. We are also committed to continuing to deliver an uninterrupted supply of our medicines for the patients who need them. If you are a patient, medical professional, employee, or member of the community, please see our COVID-19 Information Center page.