It's no secret that South San Francisco has come to be known as a premier innovation hub for biotechnology. After all, this Northern California city contains some 200 biotech companies found within approximately 11.5 million square feet of office and lab space. As a result, getting tagged as a standout in this community is no small feat. And yet, in early June, Janis Naeve, executive director of Amgen Ventures, was recognized by the San Francisco Business Times as one of the Bay Area's Most Influential Women in Business.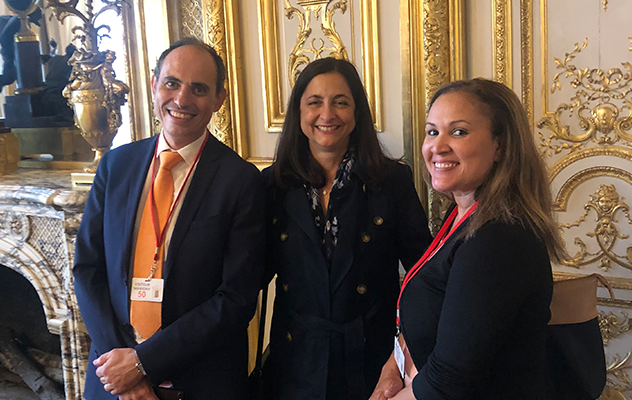 Amgen Ventures is Amgen's corporate venture capital fund, dedicated to providing emerging biotechnology companies with resources to develop pioneering discoveries focused on human therapeutics. Naeve helped establish the fund in 2004 and it has since grown to more than six times its original size in partnership with her colleagues in R&D and Law.
We sat down with Naeve to learn more about her unique path to managing one of the most active internal venture funds in biotech.
Janis, how did your career path lead you to Amgen?
I started my career as a scientist at several biotech companies, progressing through different roles. After my PhD in Experimental Pathology at USC, and a postdoctoral fellowship in Neurobiology at Caltech, I continued as a scientist at SIBIA Neurosciences, a spinout from the Salk Institute in San Diego. After four years an interesting opportunity came up at Aurora Biosciences, where I was able to move "beyond the bench," holding several different roles as a project manager, alliance manager and then into business development. After moving on to a business development role at X-Ceptor Therapeutics, I gained experience in venture capital which ultimately led me to Amgen—thanks to Philip Tagari (an Amgen VP in Therapeutic Discovery) who I met years ago when I was at Aurora Biosciences and Philip was at Merck.
What excited you about making the jump to Amgen?
Innovation is in Amgen's DNA and it is poetically appropriate that Amgen was founded 40 years ago by William (Bill) K. Bowes Jr., a former investment banker turned venture capitalist, along with six other VCs putting roughly $81,000 apiece in seed money into the promise of genetic engineering. Our first CEO, George Rathmann, closed the A round with a record $19.4M in financing on January 23, 1981, riding the coattails of a reinvigorated U.S. venture-capital market that encourages financial risk necessary to fuel innovation.
Fortunately, Amgen continued to recognize the value of venture capital and established the Amgen Ventures Fund in 2004. I couldn't have asked for a better opportunity and that's really because Amgen is doing it the right way: providing investment capital and access to Amgen's vast experience in developing leading drugs. I've been happy here for 15 years!
Tell us what it means to you to get this recognition as one of the Bay Area's Most Influential Women in Business?
As a woman, I am so pleased with this recognition, and I owe a lot to my colleagues at Amgen for nominating me. San Francisco is home to many vibrant and diverse industries, beyond just biotech. I am humbled to be included with so many accomplished women and proud of our strong business community that wants to formally provide this recognition. I think that's a very important thing. In general, I see more women in pharma corporate VC groups than in any other business. And I think that's because they recognize the importance of diversity in talent and pulling people from within to populate their corporate VC groups.
What would you say has been your biggest achievement to date at Amgen?
Incorporation of Amgen proper into the venture mindset. A lot of other corporate venture firms are more tangential to their organizations, and they are well staffed, whereas we run this function within the corporation with a team of two! What has been so satisfying is that we have not only set up a recognized venture capital fund and function that was recently recognized as one of the top 10 VCs in the business, but we have made money for the organization.
I am also proud that we not only strategically invest in innovative technologies and companies, but also in women leaders: Amgen participated in a $36.4M series B funding for Aetion, a health care technology company led by Carolyn Magill, who is a leader in the shift from volume to value in the health industry.
As a woman leader I am passionate about the great progress that has been made in our industry to diversify the ranks but understand the important work that still needs to be done to ensure equity and broad, diverse representation in the healthcare industry. Having the opportunity to oversee our strategic investments in companies that share this vision is important to me and one that I am excited to continue driving at Amgen.
What attributes have helped lead you to success?
My teammate Gladys Nunez and I manage $625 million in funds and have made more than 70 investments, and we couldn't have done it without the scientists. We have helped educate them on venture funds, while they bring the scientific point-of-view that Amgen is so well known for in the biotech industry. The scientists are integrated into what we do and are key in helping us determine the best path for companies we invest in to become successful.